Buying affordable and modern dresses is many women's dream. Shein is very popular for selling fast fashion clothing. Their outfits are affordable, stylish, and follow modern trends.
You may have a doubt, are fast fashion clothes best for parties? Our many visitors asked this question. The simple answer is yes if the brand is good. It depends on its material and some other factors. We can't say its quality by considering only its price.
We have listed some of the best party dresses from Shein for you.
1. PARTHEA Draped Collar Wrap Hem Satin Cami Dress
Navy blue dresses are one of the great choices for parties. Shein made this satin dress very fashionable. It's slim fit and available in multiple sizes, including XXL. However, you can buy it in different colors. Red, pink, and navy blue are mind-blowing.
2. Draped Collar Lace Up Backless Split Thigh Satin Cami Dress
We have happy news. It is suitable for club parties and birthdays. Furthermore, 97% of customers reviewed it as true to size. We all know she is famous for trending outfits. Shein has launched this outfit in various colors. By the way, some women liked the spaghetti straps.
Advertisement
3. SHEIN BAE One Shoulder Wrap Satin Dress
One-shoulder dresses are famous nowadays. It is just an $11 dress. However, it looks like a luxury outfit. The asymmetrical neck impressed many women. The interesting fact is you can use the machine wash and dry clean. Even though avoiding the dry clean will keep your dress best.
4. Sequin Cami Bodycon Dress
My friends told me this model looked like an angel in this outfit. I agree 100%. Bodycon dresses are very modern and make you feel confident, according to many girls said on Quora. Moreover, a customer reviewed that the sequins are perfect.
Advertisement
5. Solid PU Leather Bodycon Dress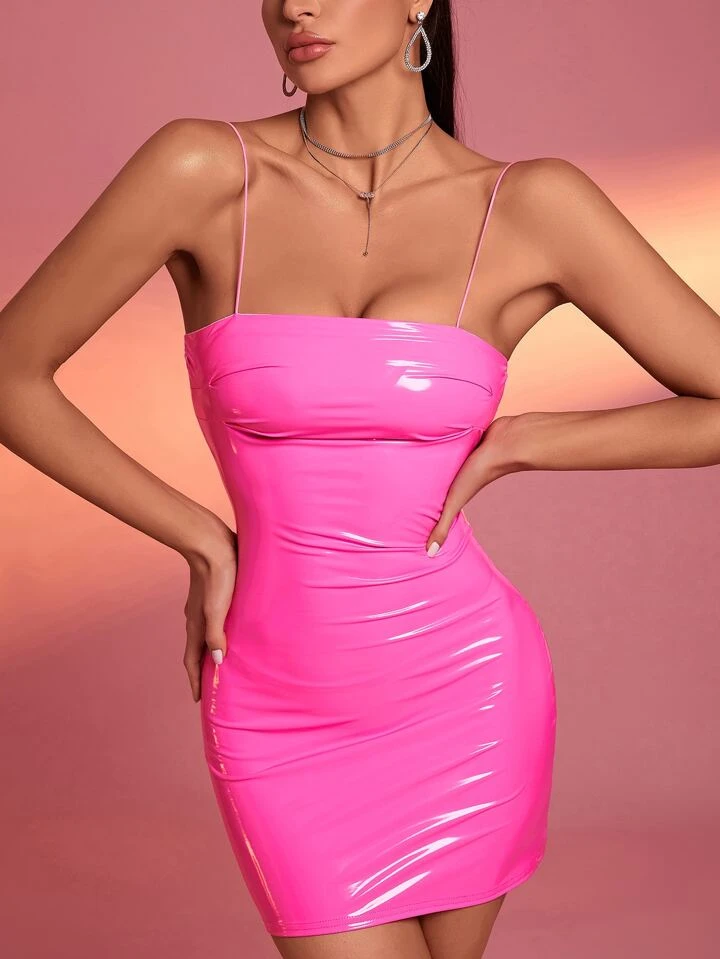 Hot Pink and PU Leather make this outfit more sexy. It is sleeveless and has a back zipper & spaghetti straps. You will get attention while wearing this Shein party outfit.
6. SHEIN BAE Split Thigh Sequin Cami Dress
Make your day best with backless dresses. You can wear this cami dress for parties, prom, cocktails, and semi-formal events. Wear high heels for parties with the shein party dress.
Advertisement
7. SHEIN BAE One Shoulder Cut Out Ruched Bodycon Dress
SHEIN BAE features many modern outfits for college girls and women. The maxi dress has an asymmetrical neckline and is made with highly stretched fabric. Unfortunately, it is not available for curvy women.
8. SHEIN Belle Fringe Trim Sequin Cami Dress
Short dresses are also perfect for club parties. Its slight stretch fabric, spaghetti straps, and sleeveless design make it more beautiful. By the way, manufacturers preferred the hand-wash.
Advertisement
9. SHEIN Privé Solid Ruched Bodycon Dress
A $12 party outfit is not expensive. So, anyone can easily purchase it and try it for parties and birthdays. It is available in five colors Green, Black, Royal Blue, Khaki, and Chocolate Brown.
10. SHEIN BAE Asymmetrical Hem Ruched Mesh Tube Dress
Shein has made this Mesh Tube Dress with Polyamide and Elastane. White is the perfect color that makes your mind peaceful. Wearing red heels or sandals and a bright red handbag will make you a perfect girl.
Advertisement
11. Ruffle Hem Bodycon Dress
It is time to wear scoop-neck outfits for parties. Why don't you try a mini bodycon dress with a scoop neck? Many girls suggested it is beautiful and comfortable to wear.
12. Insert Halter Neck Bodycon Dress
Finally, it is also one of the best party outfits. Halterneck will give you a gorgeous look. Some of my friends liked its pencil hem and the slim fit design.