Get ready to make a statement at your prom like never before with the captivating allure of backless prom dresses.
Backless prom dresses have appeared as an attractive and sophisticated choice for fashion-forward individuals. However, many girls have the question. Is a backless dress appropriate for prom? Yes. Backless Dresses are allowed for prom parties. Still, you have to follow your school's dress code.
We will explore the world of backless prom dresses, highlighting the finest designs, the most flattering silhouettes, and the latest trends that will make you the belle of the ball.
1. All this Allure Backless Mermaid Maxi Dress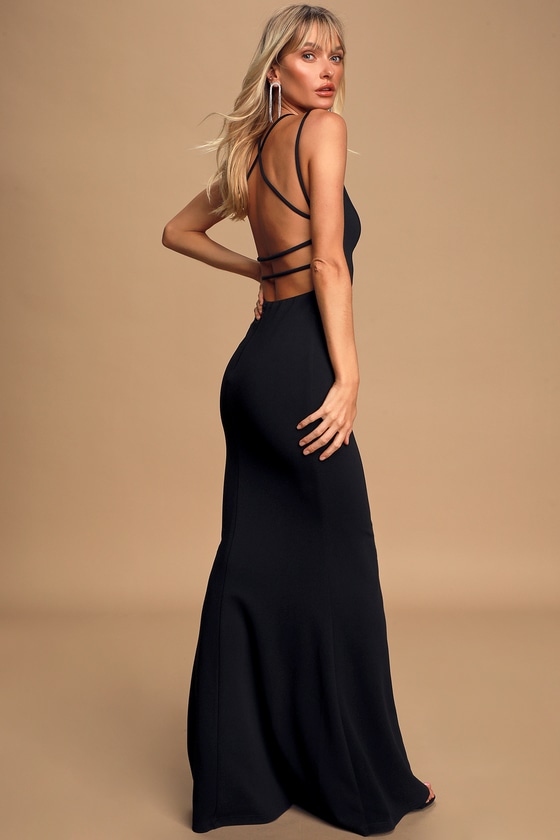 This black prom dress is an undeniable showstopper. Its flawlessly designed princess-seamed bodice, and V-neckline, effortlessly captivate attention. Its crisscrossing straps add an extra style.
2. Ode To Love Light Blue Satin Maxi Dress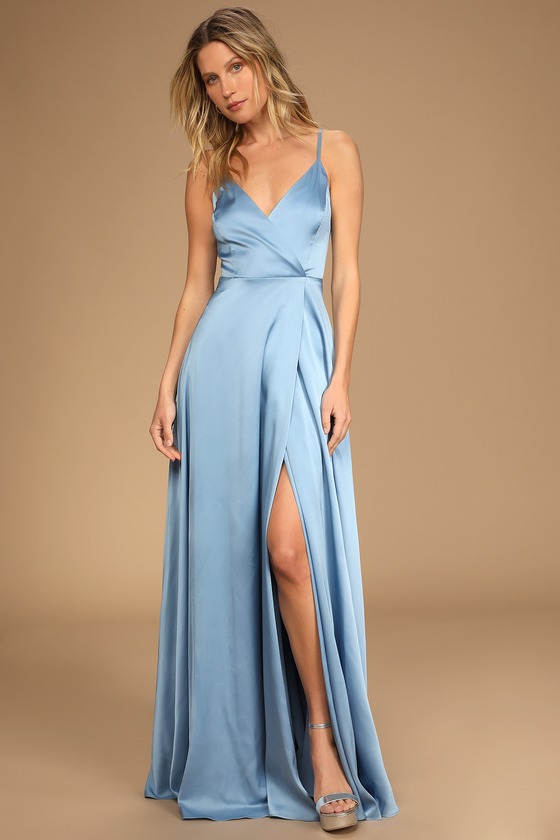 This stunning backless prom dress is crafted from luxe satin, creating an exquisite silhouette. It boasts adjustable spaghetti straps, a plunging surplice bodice with princess seams, and a fitted empire waist.
The flowing maxi skirt showcases a faux wrap design and gives you comfort. Lulus made it with a shell composition of 95% Polyester and 5% Spandex and a lining of 100% Polyester. You can easily care for it with a hand wash cold, no bleach, line dry, and low heat ironing instructions.
Advertisement
3. Heavenly Hues Magenta Maxi Dress
Turn heads all night long with the Lulus Heavenly Hues Magenta Maxi Dress. Its ethereal design features a V-neck and back, complemented by the flowing georgette fabric.
The dress has a hidden back zipper and clasp for easy wearing. Fully lined for comfort, made from 100% Polyester for both the shell and lining. We recommend you dry clean only. It fits true to size. Embrace your inner goddess with this cute prom dress.
4. Tiered Solid Tie Strap Open Back Swing Dress
Capture hearts in this navy blue prom dress. The smocked waist adds a flattering touch. This dress exudes a romantic vibe, making it perfect for parties and dating. It offers comfort and a lightweight feel. The plain pattern highlights the dress's elegant simplicity.
The shirred, lace-up, backless, and tiered design elements add charm. This sleeveless prom dress is ideal for summer occasions. Complete your enchanting look with this stunning navy blue prom dress.
Advertisement
5. In Love Forever Slate High-Low Maxi Dress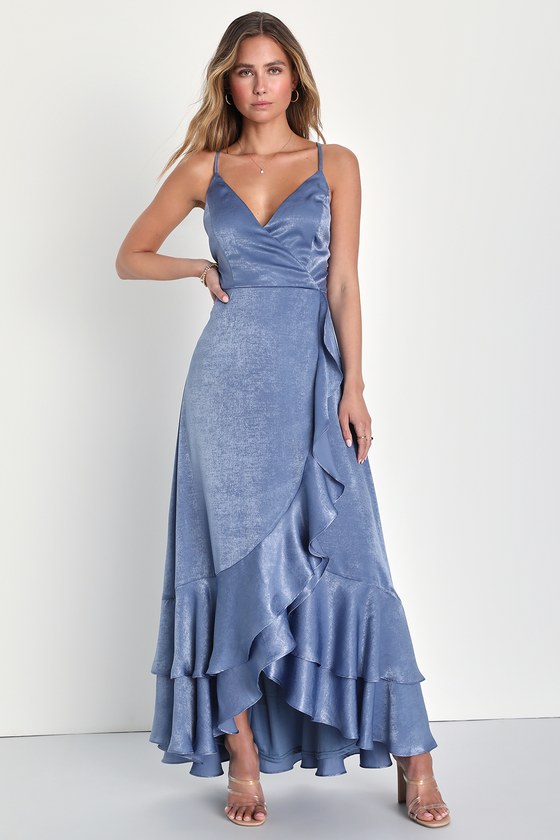 This dress showcases a mesmerizing surplice neckline with elegant princess seams. With a hidden back zipper and clasp, it's easy to slip into. The dress is fully lined for comfort and measures 9″ longer at the back for a dramatic effect.
It's recommended to hand wash cold & separately and lay flat to dry. Avoid bleach, ironing, and dry cleaning. Experience eternal love and beauty in this backless maxi dress.
6. Rare Beauty Navy Blue Tulle Backless Maxi Dress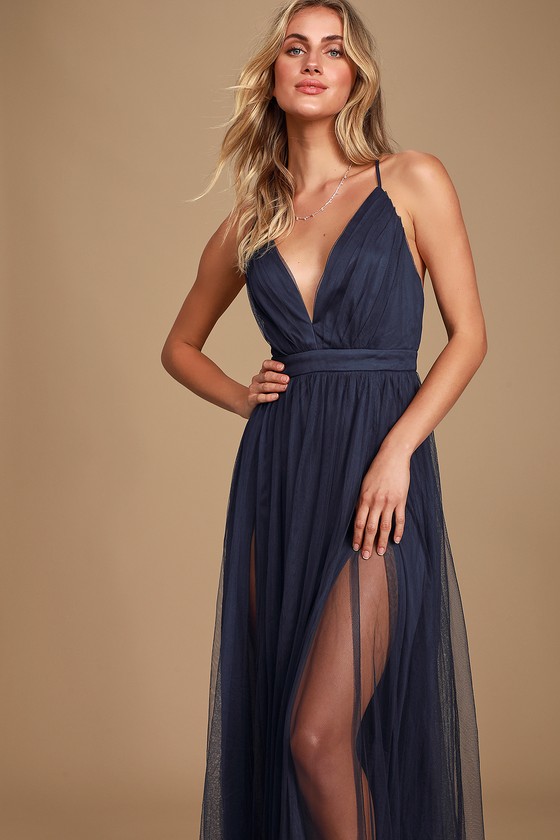 Elevate your style with this mesmerizing outfit. The pleated, plunging bodice and high, banded waist creates a flattering silhouette, supported by adjustable skinny straps that crisscross over a sultry open back.
It has a hidden back zipper and clasp for easy wearing. Make a statement with this captivating ensemble.
7. Plus Size Backless Belt Prom Dress
This plus-size prom dress is ideal for a party and is designed with a sleeveless silhouette. It is suitable for summer and spring events. Embrace style and affordability with this navy blue backless dress, guaranteed to make you feel confident and beautiful on your special occasion.
Advertisement
8. Troulos Rust Red Lace-Up Midi Dress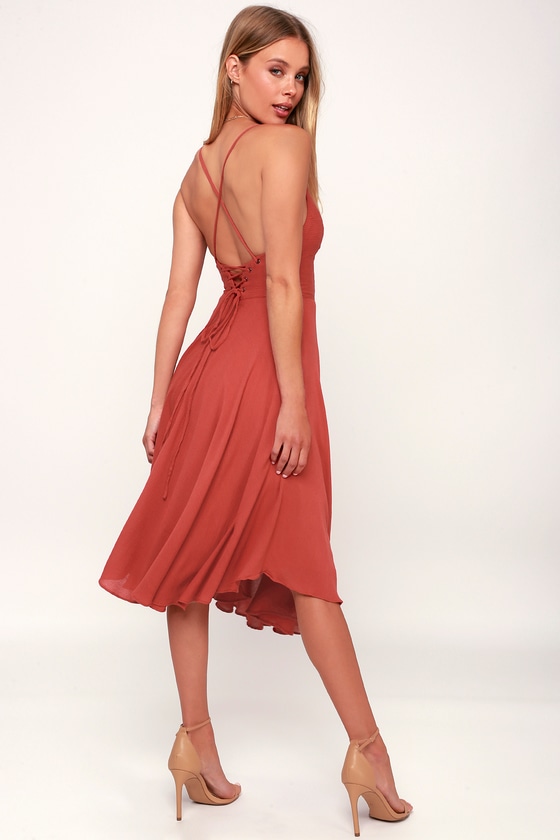 This versatile dress is perfect for everything from a beach getaway in Mykonos to a casual backyard party with friends. Crafted from lightweight and breezy woven rayon, it features a flattering V-neckline, a princess-seamed bodice, and a fitted waist for a defined silhouette.
The back of the dress showcases skinny straps that cross and elegantly weave into a chic lace-up design. The outfit is super comfortable. For care instructions, hand wash cold, avoid bleach, line dry, and iron on low heat. Elevate your style with this stunning prom dress that effortlessly combines fashion and comfort.
9. Tricks of the Trade Taupe Maxi Dress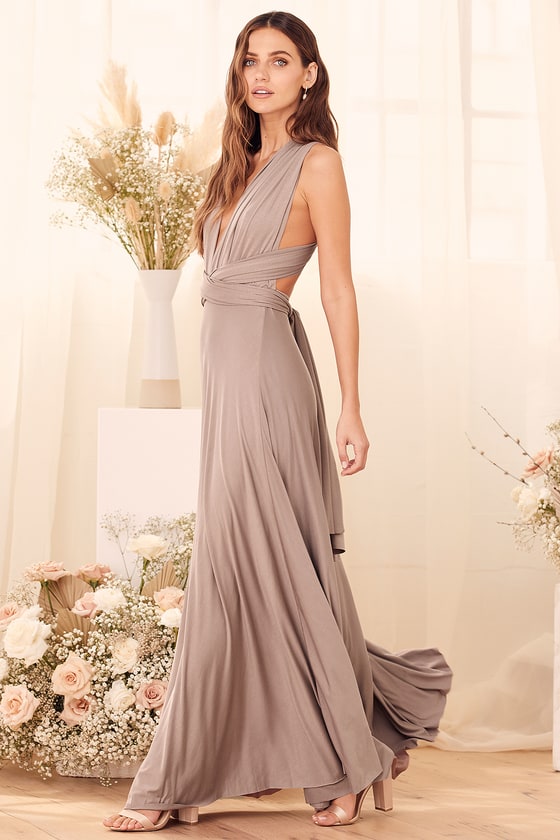 This party dress showcases its remarkable versatility with two 73″ long fabric lengths that emanate from an elastic waistband. You can create stunning bodice styles, including halter. Make a lasting impression at any party with this fascinating frock.
10. Floral Print Open Back Strap Slit Tie Elegant Sexy Dress
This cocktail dress is available in various colors, including white, blue, green, yellow, and pink. You can wear it for a prom, vacation, or a romantic date. Moreover, some customers confirmed it's true-to-size and stylish. Selfsow features a beautiful floral print pattern, adding a touch of sophistication.
Advertisement
11. Make it Elegant Black Satin Strappy Maxi Dress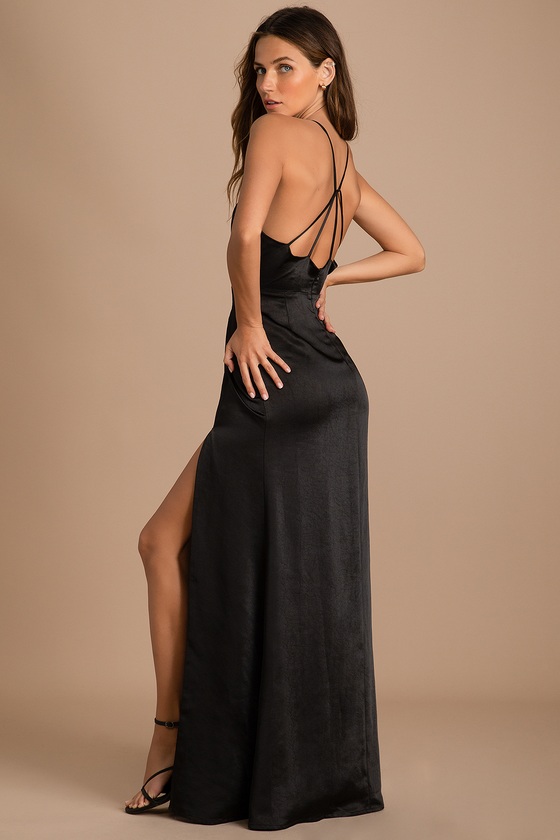 Lulus designed this backless dress to make a statement at any event. The princess-seamed bodice and modified halter neckline create a flattering silhouette. With a high waist, the dress gracefully flows into a cascading maxi skirt featuring a thigh-high slit at the front. Embrace sophistication and style with this stunning black satin dress.
12. Tea Gardens Navy Blue Floral Print Satin Maxi Dress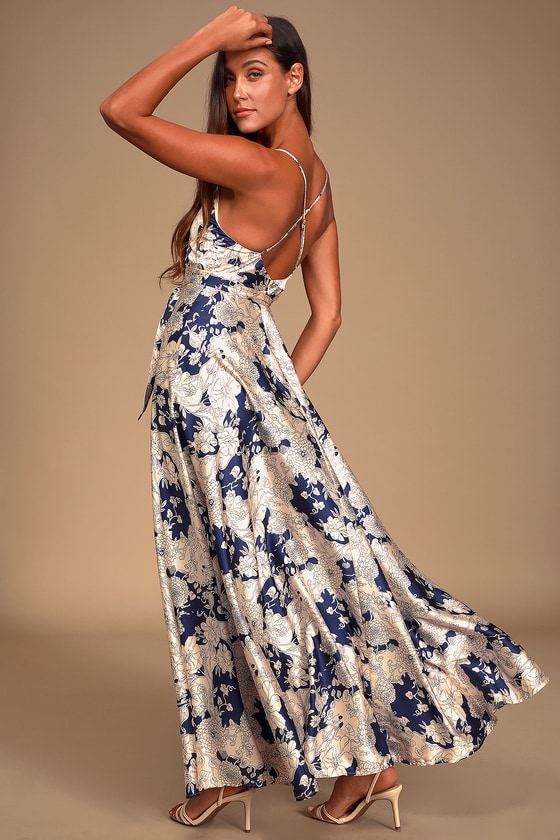 It is the ultimate choice for a backless prom dress. The adjustable skinny straps gracefully cascade into a sultry surplice bodice when the fitted waist, accentuated with a sash belt, creates a flattering silhouette. Prepare to turn heads and feel confidently beautiful in this perfectly sexy backless prom dress.
13. Destined Romance Backless Maxi Dress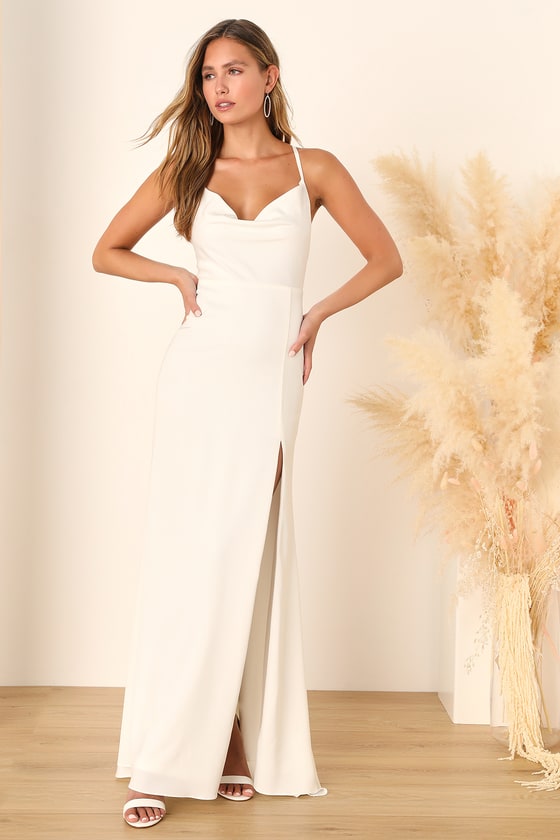 The dress showcases a sophisticated cowl neckline, a sleeveless bodice, and adjustable spaghetti straps that create a captivating crisscross pattern on the flirty open back. With each bridal order, you will receive a branded canvas garment bag, ensuring storage and protection for your dress.
Advertisement
14. Floral Print Slit Open Back Tube Dress
This evening dress is comfortable and stylish. It is perfect for prom, parties, date nights, and other special occasions. The beautiful floral print pattern will make you attractive.
15. Precious Sentiments Navy Blue Pleated Tie-Back Maxi Dress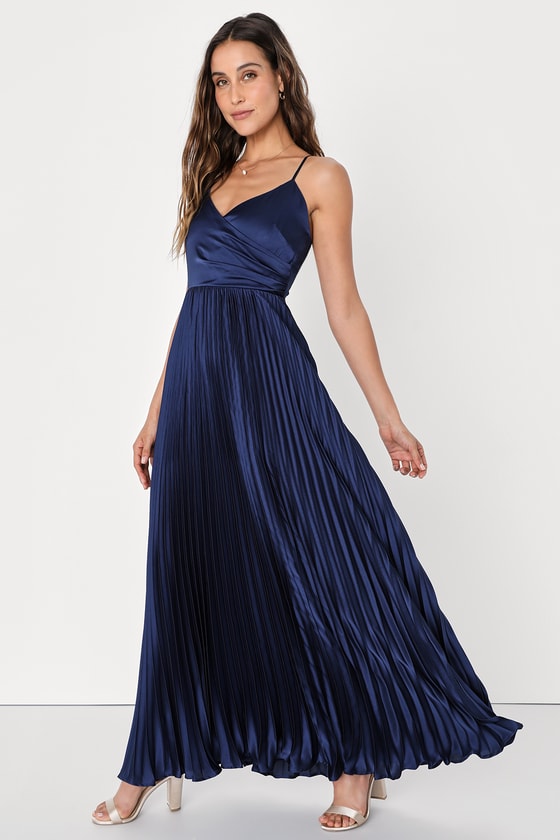 The slender straps create a mesmerizing crisscross pattern on the open back, adding beauty. The high, fitted waist sits perfectly above the pleated A-line skirt. The pull-on design with elastic at the back ensures a comfortable and secure fit.
For care instructions, hand wash cold, wash separately, and lay flat to dry. Avoid bleach, ironing, and dry cleaning to maintain the dress's pristine condition.