Many women said that printed dresses look more attractive than regular outfits. Printed dresses are best for summer. Bohemian Print skirts are a great example. We will discuss the popular type of printed clothes and styling tips.
Most Popular Printed Dresses
These are the best types of printed outfits for many occasions.
Floral Prints
Floral prints are one of the famous printed outfits. They're versatile and best for various events, including vacations, date nights, and summer. Let the pattern be the focus by pairing it with neutral accessories and simple shoes. If you're bold, try fashion accessories such as jewelry and handbags.
Animal Prints
Animal prints are another popular type of printed outfit, and they're perfect for adding a bit of edge to your wardrobe. There are endless options for animal prints, including leopard print and zebra stripes. A leopard print dress looks attractive with black jeans.
Geometric Prints
If you're looking for something a bit more modern, geometric prints are a great option. Geometric prints can add a unique touch to any outfit. You have to balance the print with solid colors. Denim skirts go well with geometric print tops.
Abstract Prints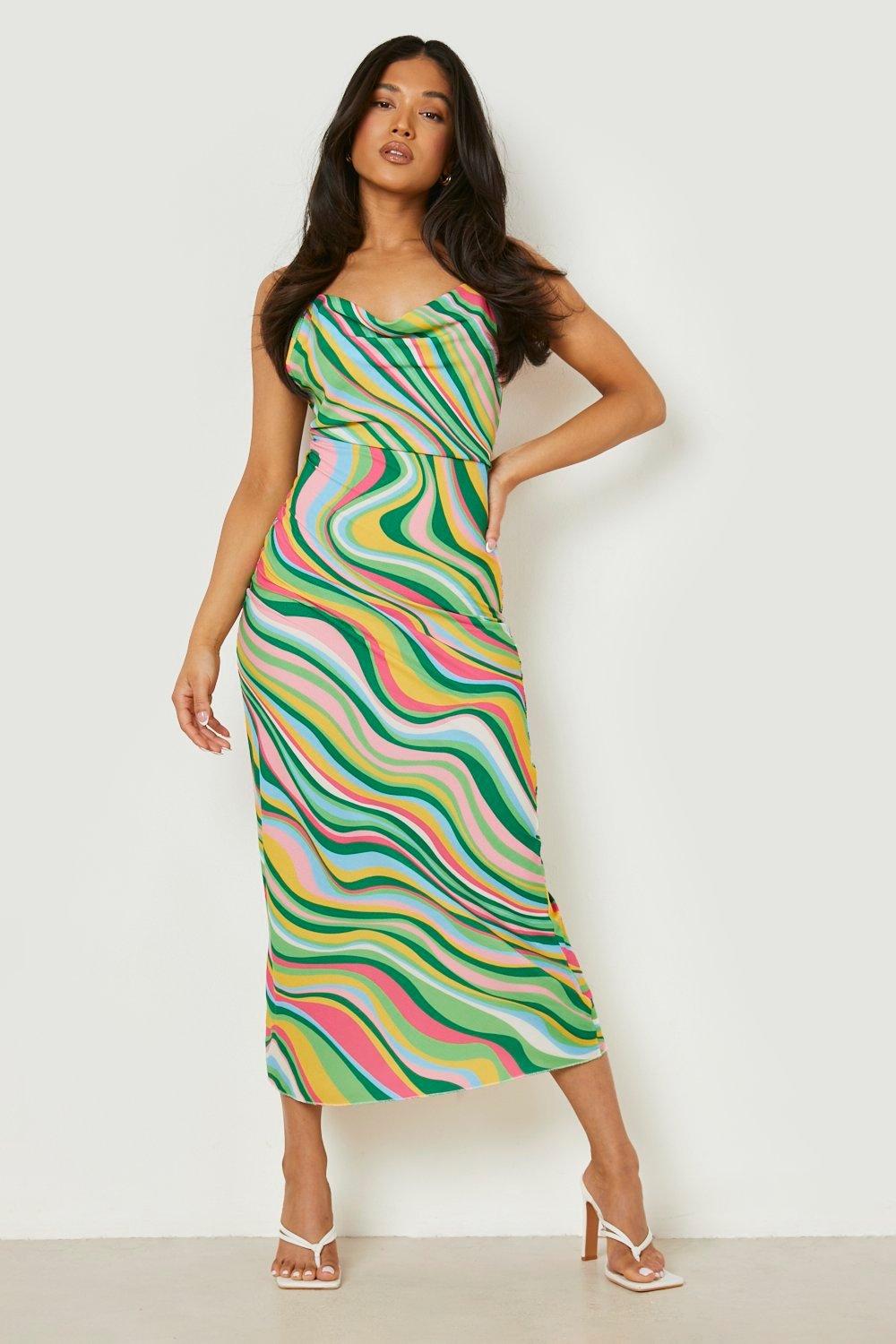 Abstract prints are perfect for those who want to make a statement. It can add a unique touch to any outfit.
Keep the rest of your outfit simple when styling abstract prints. A colorful abstract print dress looks great paired with black heels. Moreover, an abstract print blouse looks great with skinny jeans.
Striped Prints
Striped prints are perfect for adding a bit of nautical flair to your wardrobe. Thick stripes and delicate pinstripes are some examples of striped patterns. Wear a solid color top or skirt when trying a striped print dress. Otherwise, it may ruin your style. By the way, you can find tons of different striped patterns in outfits.
Related: How To Wear Printed Dress
Polka dots
Polka dots are a timeless print that can add retro vibes to your outfit. This print features small and uniform dots on a contrasting background. You can see many celebrities wearing polka-dot outfits on Instagram. The remarkable thing about polka dots is their versatility. Why don't you try these polka-dot printed outfits?
Camouflage
Camouflage is a print that was invented for military use. Later, it became a popular choice in streetwear and casual outfits. Camouflage is available in various styles and colors, from traditional green and brown to more colorful and abstract versions. Overall, camouflage is a good choice for adding interest and personality to your style.
Ethnic prints
Ethnic prints are a broad category of prints that are inspired by traditional textiles around the world. You can buy ethnic prints in multiple dresses, skirts, and tops.
Tie-dye
Tie-dye is created by tying fabric. It looks like beautiful art. This pattern is also available in different designs. However, spiral patterns and crumpled patterns are very famous. By the way, you can also create these types of prints at home.
Plaid print
A plaid is a good option for tea parties, daily wear, and birthdays. Finally, plaid is a good choice for adding classic style to your wardrobe.