Girls! Are you looking for the best Blue Homecoming Dresses? Homecoming is an exciting event that calls for a stunning outfit.
We have carefully selected a collection of blue homecoming dresses to help you stand out and make a lasting impression. Whether you prefer a classic navy, a vibrant royal blue, or a soft pastel shade, we have something for everyone.
We explore the top picks, the latest trends, and the most flattering styles for you. Get ready to shine in these beautiful and fashionable blue homecoming dresses.
1. Desirable Dream Navy Blue Satin Midi Dress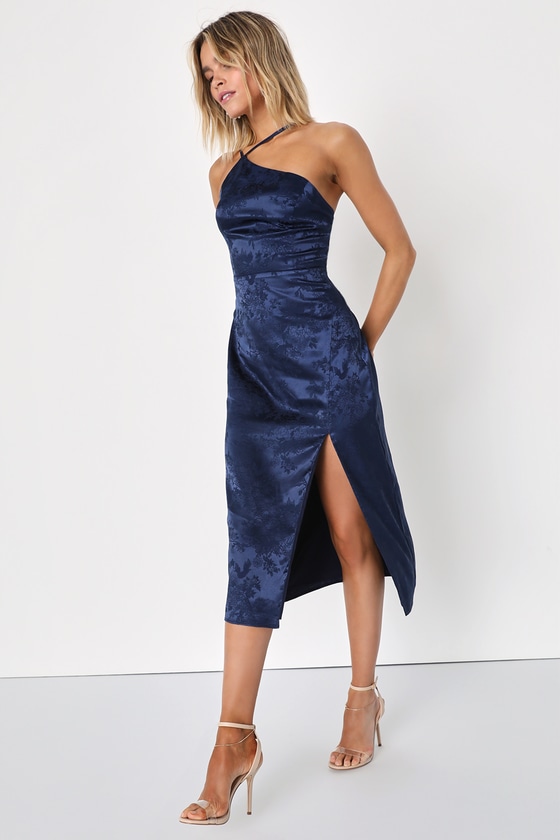 Dress to impress with the perfect homecoming dress. The asymmetrical halter neckline and princess-seamed bodice create a unique and flattering silhouette, with adjustable spaghetti straps offering a customized fit.
The high, fitted waist adds definition and sophistication. Moreover, the figure-skimming midi skirt exudes effortless charm. Embrace the perfect balance of style with this jacquard dress.
Advertisement
2. Law of Attraction Navy Blue One-Shoulder Asymmetrical Dress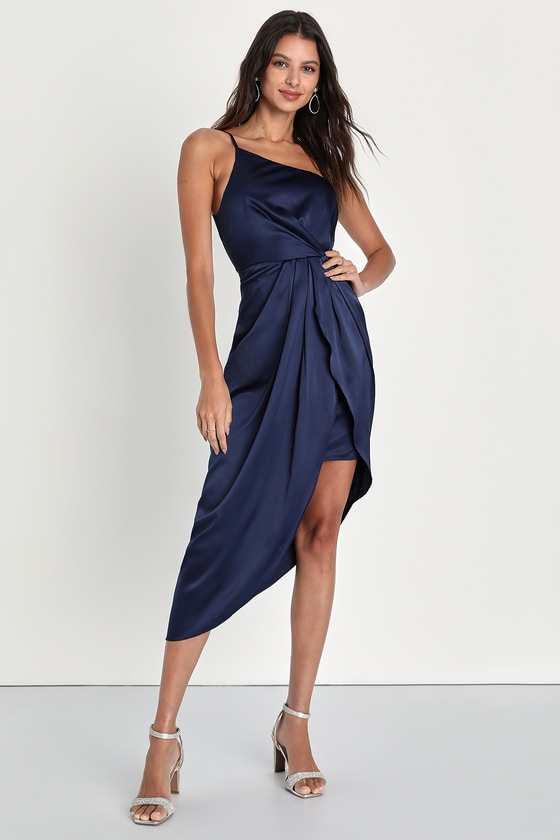 Get ready to turn heads with this exquisite outfit that effortlessly blends style and comfort. This cocktail dress allows you to dance the night away easily. The adjustable spaghetti strap gracefully flows into a chic one-shoulder neckline, enhanced with hidden no-slip strips to keep everything in place. The blousy bodice adds a touch of elegance.
The overlapped asymmetrical midi skirt features a daring side slit, revealing a mini skirt underneath for a trendy high-low effect. Prepare to make a lasting impression with this attractive outfit that combines sophistication and contemporary style.
Advertisement
3. Satin Lace Up Light Blue Homecoming Dress
Unleash your inner beauty with this evening party dress. It is Perfect for many occasions, including the Chinese Spring Festival, cocktail parties, graduations, holidays, homecoming, prom, semi-formal events, and Valentine's Day.
The corset-style silhouette and bodycon fit accentuate your curves when the spaghetti straps add a touch of elegance to the overall look. Sleeveless and with a maxi length, it offers a captivating combination of comfort and sophistication.
Advertisement
4. Hollywood Woman Dusty Blue Satin Midi Dress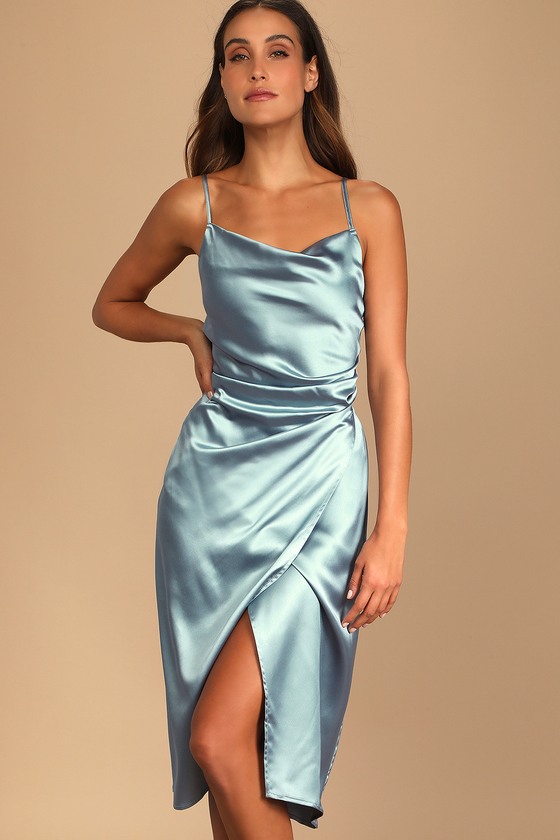 This blue homecoming dress is designed to command attention with its attractive details and flattering silhouette. The adjustable spaghetti straps elegantly frame your shoulders, while the draping neckline and sleeveless bodice exude sophistication.
The fitted waist features ruching at one side, adding a touch of texture and visual interest. The dress concludes with a wrapping midi skirt, creating a stylish finish.
Advertisement
5. Fabulous Affair Navy Blue Satin Surplice Dress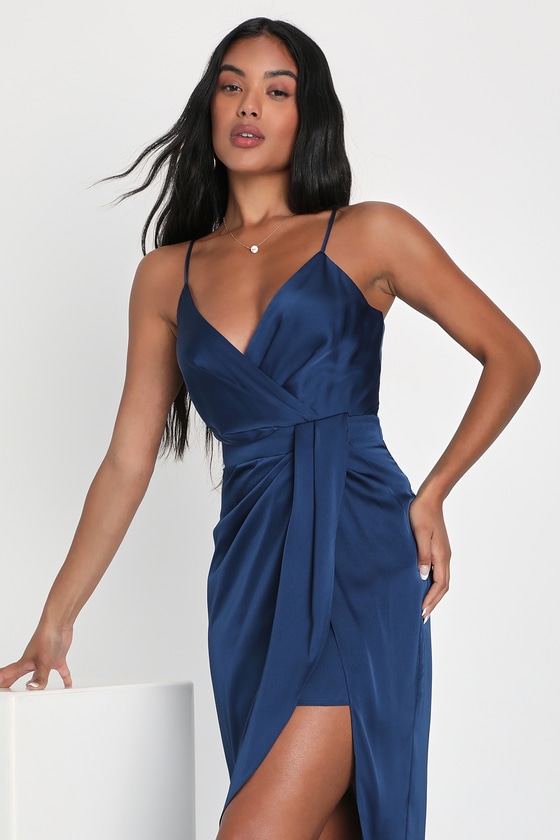 The sleeveless bodice and surplice neckline exude sophistication, while the adjustable spaghetti straps add a touch of versatility. The high, banded waist cinches the dress in all the right places, accentuating your figure.
6. Cami Cowl Front Open Back Silky Maxi Vegas Dress
Elegant-style maxi dresses are best for homecoming. You can also wear it for prom, date night, and birthdays. The adjustable shoulder straps are mind-blowing. Check the different colors and choose your favorite one.
Advertisement
7. Shape the Night Cobalt Blue Asymmetrical Midi Dress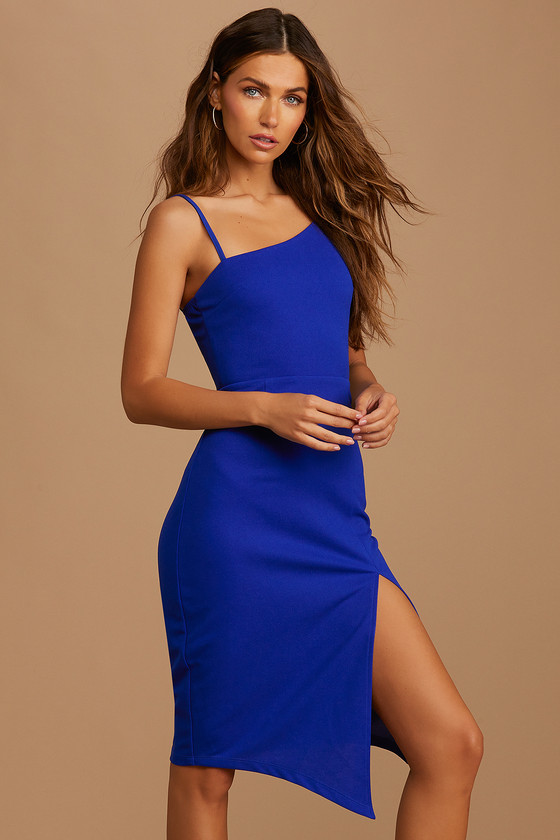 Achieve chic vibes with the trendy Midi Dress. This dress offers a comfortable and flattering fit. The asymmetrical neckline adds a touch of modernity, while the darted bodice enhances your shape. Adjustable spaghetti straps ensure a customized and secure fit.
8. Feeling Elegant Navy Blue Lace-Up Slit Maxi Dress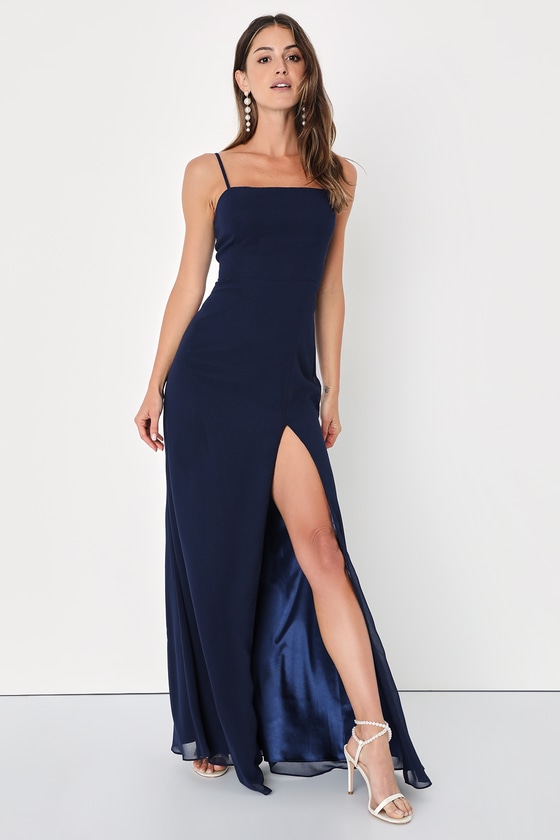 Get ready to stun in the perfect homecoming outfit – the Lulus Feeling Elegant Navy Blue Lace-Up Slit Maxi Dress! This outfit exudes elegance. It features a flattering straight neckline and adjustable spaghetti straps for a customized fit.
Advertisement
9. Romance Language Blue Backless Lace Dress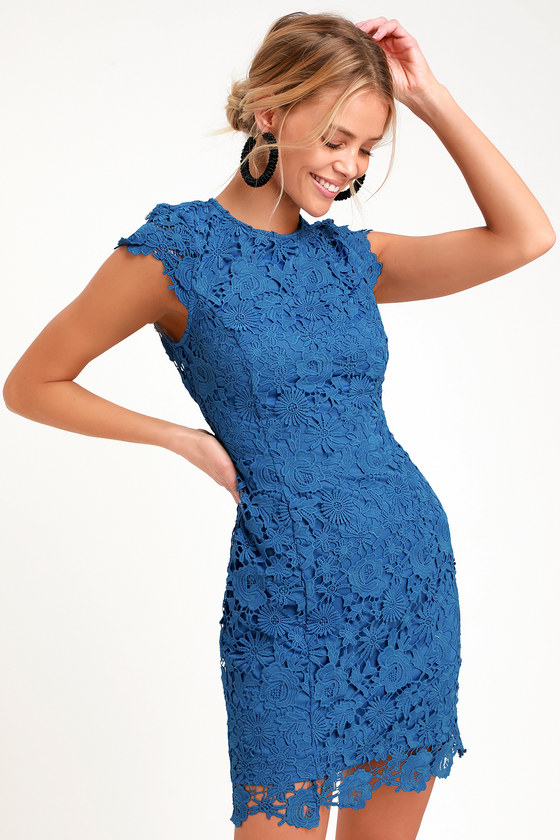 Capture everyone's attention with the exquisite beauty of the Lulus Floral Lace Backless Homecoming Dress. This stunning dress combines the allure of elegant floral lace with a flattering bodycon silhouette. Moreover, it will make you feel confident and unforgettable.
10. Solid Color Slit Side Velvet Prom Vegas Dress
This dress is not just pretty good; it's an absolute stunner. The color is exactly like the photo. You'll love the adjustable straps, allowing you to achieve the perfect fit and feel comfortable throughout the night.
It's true to size and fits like a dream. The unique design sets you apart from the crowd and ensures all eyes are on you. Prepare to make a lasting impression and create unforgettable memories in this extraordinary prom dress.
11. Bonafide Babe Slate Blue Satin Dress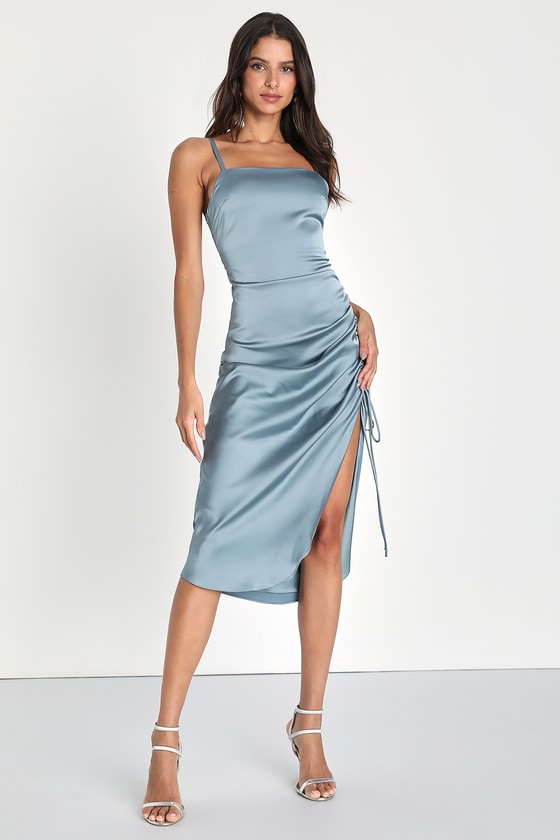 Get attention in the attractive Lulus Bonafide Babe Slate Blue Satin Sleeveless Ruched Midi Dress. The adjustable spaghetti straps feature the best fit while highlighting the elegant straight neckline. The darted bodice adds a flattering touch to the overall silhouette, enhancing natural curves.
12. Forever Your Girl Royal Blue Bodycon Dress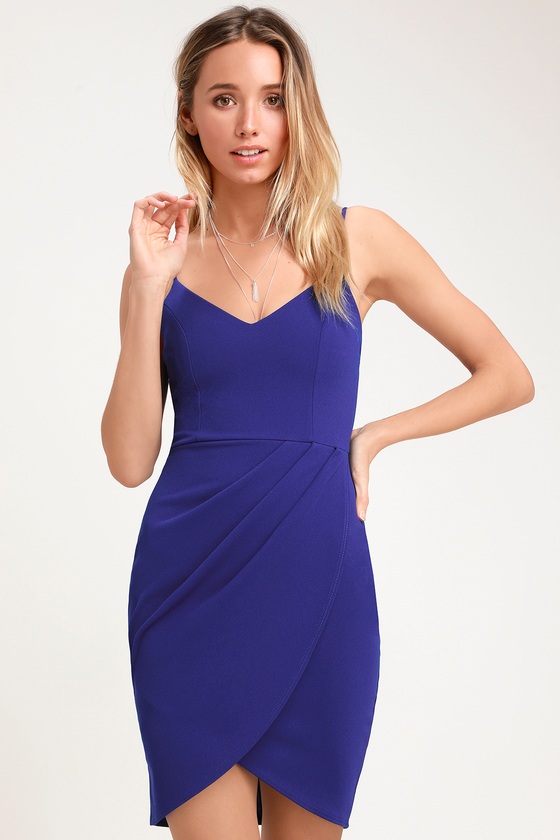 I was beyond thrilled to receive this stunning blue homecoming dress. I decided to wear it for a fun girls' night out. The vibrant blue color is even more captivating in person. It truly exceeded my expectations.
I typically shy away from bright colors, but this shade of blue had a sophisticated and elegant touch. Overall, the dress is cute and comfortable. It is ideal for a night out with friends or even a romantic date.
Latest Blog Posts