Summer skirts also called as beach skirts are one of the essential things in every woman's life. It's hard spending the holiday or the outdoors activities without a cute and fashionable summer skirt. These skirts are perfectly matched with many outfits and fashion accessories such as bikini, crop tops, blouses, camisoles, shirts, jewellery, hats, etc. Nowadays, many women like to wear bohemian skirts and floral print skirts in summer. They look stunning in the hot weather.
The special thing is most of the skirts we mentioned here are also suitable for parties, work, dinner apart from beaches and holidays. So, you don't need to waste your time by searching the best summer day skirts.
What Are The Best Skirts For Summer?
These are the best cute summer skirts for women.
SheIn Women's Summer Skirt
The summer maxi skirt has made with boho floral design and it has a side split, which is amazing. Its waistline contains elastic. Cami crop tops and t-shirts match perfect with it. Wear it for vacation, beach, summer party and casual wear. By the way, it's suitable for women and teen girls. Washing it by hands and don't bleach.
Details
Material: Viscose & Elastane
Closure: Pull On
Reasons To Buy
Boho design is best for summer
Super cute
Bluetime Women Leopard Print Long Skirt
First, we need to tell about its fabric. It is lightweight, comfortable, soft, flattering, stretchy and skin friendly. This high waist casual maxi skirt is a good option not only for summer but also spring, fall and winter. However, wearing the leggings and sweaters keeps you warm in winter. The Bluetime has designed it as simple. So, it's great for many casual occasions. Why don't you try heels and sandals with this floor length skirt?
Details
Material: Polyester & Spandex
Closure: Elastic
Reasons To Buy
Suitable for all seasons
Available in different colors
Comfortable & Soft fabric
Floerns Women's Boho Summer Midi Skirt
Boho dresses became popular in the 19th century. The Floerns gives you a variety of color options and it is made with non stretchy fabric. Moreover, some of the Amazon customers review that this was one of the best summer staples they had ever purchased. Boots will be the best fashion accessories for the midi skirt. Finally, it goes well with many different styles of tops, including crop tops, camisoles, shirts, blouses and t-shirts.
Details
Material: Polyester
Closure: Elastic
Skirt length: Midi
Reasons To Buy
Easily match with any top
Lightweight skirt
Best summer skirt for travelers
Chuanqi Women's Boho Floral Print Maxi Skirt
If you expect a maxi skirt which flattering at the beach, you have come to the right place. This summer beach skirt looks expensive, but it doesn't cost much and you can afford it. Its breathable material is good for the hot weather. The sexy cutout of the beach wrap long skirt impressed me like many buyers. Apart from the beach, it will also give the stunning look at the nightclub. Wearing a mini shorts underneath the skirt is good.
Details
Material: Polyester
Closure: Self Tie
Skirt length: Maxi
Reasons To Buy
Best self tie summer skirt
Adorable design
Women Tropical Leaves Print Summer Skirt
People spend most of their free time at the beaches during the summer. So, every woman likes to dress sexy in this time. Skirts are one of the greatest and cutest outfits for beaches. The Selfsow has launched this skirt in tropical leaves Print design specially for summer and unfortunately, it's only available in blue. By the way, it has two stylish cutouts. You can see them in the picture.
Details
Material: Polyester
Color: Blue
Reasons To Buy
Specially made for summer and beaches
Mind-blowing design
Summer Vibes Blue Floral Print Mini Skirt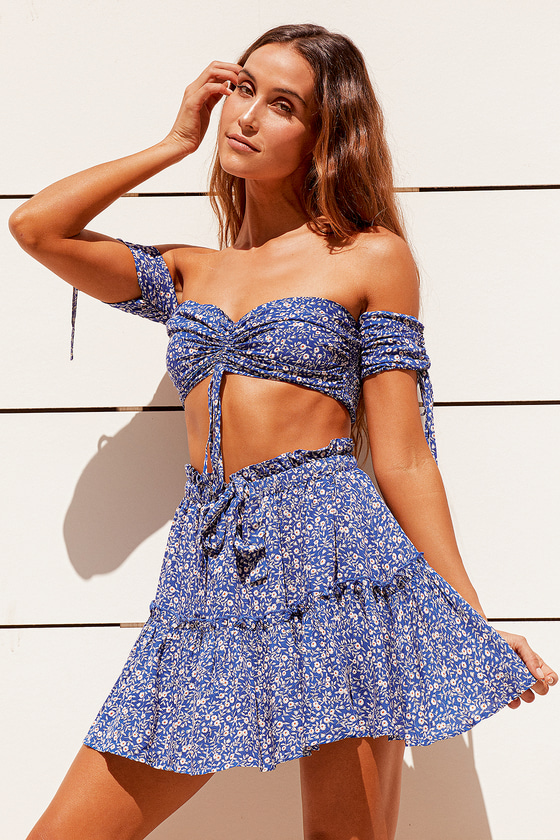 Mini skirts are elegant and looks glamorous in summer and spring. Lulus features this skirt with lightweight fabric. The waist contains elastic with the drawstring tie. You can also buy the matching crop top in this picture from Lulus. Wearing a mini biker shorts is good underneath the mini skirts. Don't use the machine wash and bleaching powders.
Details
Material: Rayon
Skirt length: Mini
Reasons To Buy
Super comfortable summer skirt
Gorgeous design and true to size
Adrienne Summer Beach Skirt Dress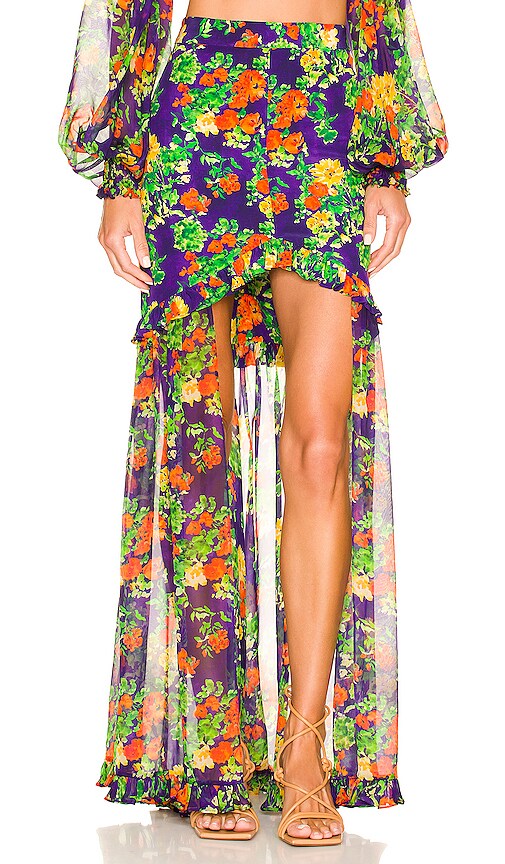 Partially lined skirt outfit has a hidden back zipper. Earrings and heels will fulfill your style. I really like the front curve cutout.
Details
Color: Navy Summer Floral
Reasons To Buy
Unique design
Fashionable & Stylish Skirt
Gathered Knot Split Beach Mini Skirt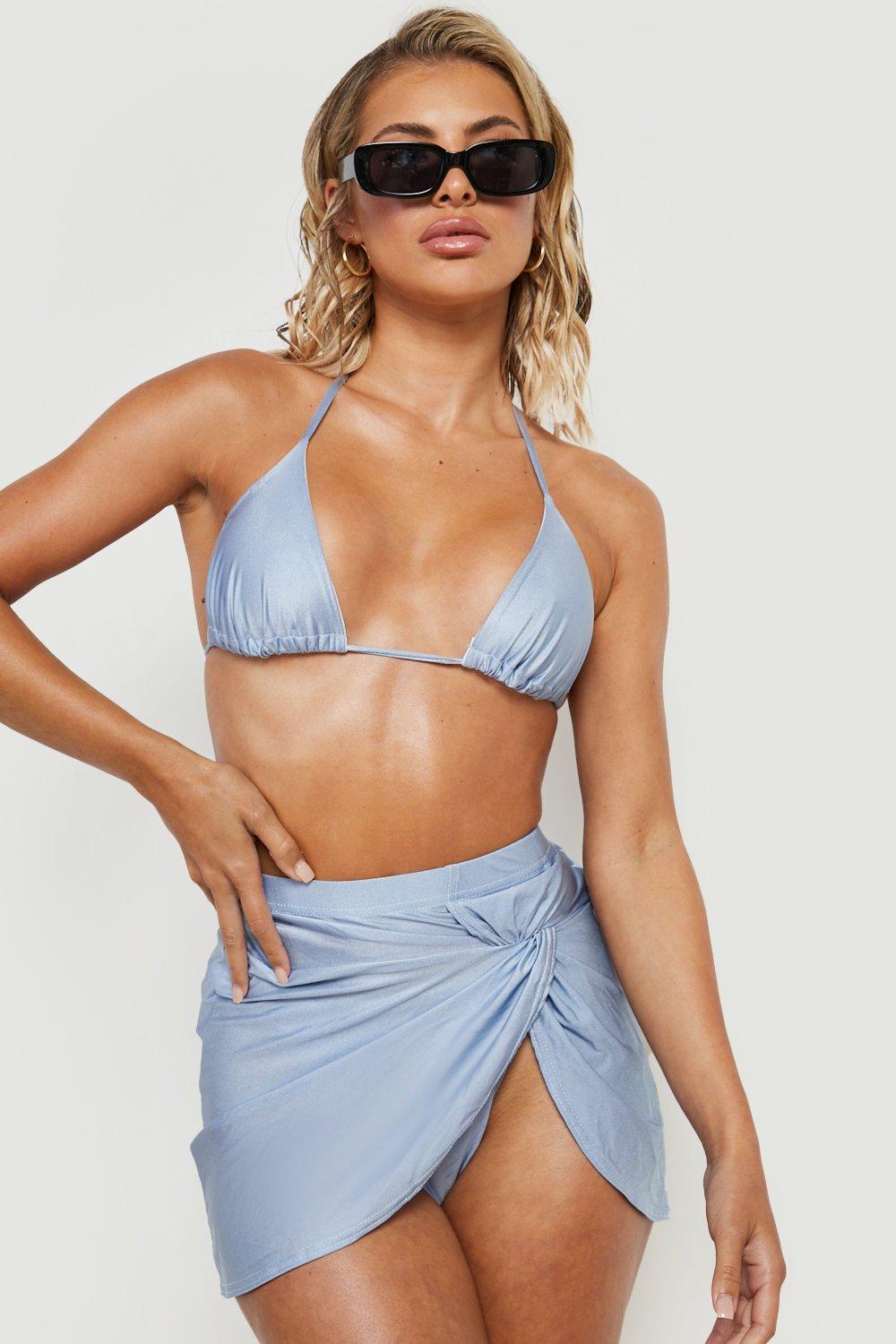 You can wear this mini summer skirt with bikini or the tank top. You look so glamorous if you wear this skirt at the beach. This beach wrap skirt is perfect for beaches and swimming pool because, it is made with breathable and quick drying fabric. So, enjoy your beach party with it. By the way, you can only buy it in three different sizes for now.
Details
Material: Polyester
Colors: Pale Blue & Cocoa
Skirt length: Mini
Reasons To Buy
Stylish and sexy mini skirt for summer
Best for beach parties
PrinStory Women's Summer Skirt
This midi skirt is available in different colors and patterns. They are trending designs and look beautiful During the summer, wear it to the office, party, travel, dating and the friend meetups. Choose your fashion accessories wisely.
Details
Material: Rayon & Spandex
Closure: Elastic
Skirt length: Midi
Reasons To Buy
Super soft and flattering
True to size
Romwe Women's Boho Tribal Print Skirt
This burgundy high slit maxi skirt is made with Rayon which is stretchy, comfortable, lightweight and super soft. Pair with tank tops, blouses, cropped tops and shirts. It's a super stylish and fashionable summer skirt, however the price is affordable. Moreover, this summer day skirt is a best choice for photoshoots.
Details
Material: Rayon
Closure: Elastic
Skirt length: Maxi
Reasons To Buy
Comfortable to wear
Looks like luxury skirt
Floerns Beach Swimwear Cover Up Wrap Skirt
Cover Up Wrap skirts are best for summer and they work like Sarong skirts. You can purchase it in some solid colors like Black and patterns such as Green Leaf, Green Black Tropical and Multi Leopard. Wear it with your favorite bikinis and Tankini.
Details
Material: Polyester
Pattern: Animal Print
Closure: Self Tie
Reasons To Buy
The side split is really awesome
Affordable summer skirt
LETSRUNWILD Women's Mini Skirt
The cotton makes you comfortable in the hot weather like summer. Its waistband contains elastic so, it will fit with your body well. This cute mini skirt is suitable for casual and daily wear.
Details
Material: Cotton & Polyester
Closure: Elastic
Reasons To Buy
Made with non see through material
Cute & Fashionable Skort
EXLURA Womens High Waist Polka Dot Pleated Skirt
This Polka dot pleated summer skirt will be good for your body shape and it has two pockets. EXLURA has designed this skirt very well the hem and waistline proofs it. Pair a bucket hat, sandals, crop top, sunglasses and a handbag.
Details
Material: Polyester
Closure: Elastic
Rise Style: High Rise
Skirt length: Midi
Reasons To Buy
Versatile summer midi skirt
Offers a classic style
ZAFUL Women's Boho High Waist Midi Skirt
Do you know, this Zaful midi skirt goes well for all seasons and all body types. The fabric is good for casual & daily wear, and it's so comfortable. The Zaful features this pencil skirt in Boho design. So, it will be great for beach in summer days.
Details
Material: Polyester
Skirt length: Midi
Reasons To Buy
Slim fit summer skirt
High waist design
Kasper Women's Stretch Crepe Column Skirt
This skirt is obtainable in black and white. Use dry clean only for best results. It has a hidden zipper and a V cutout on the backside.
Details
Material: Polyester & Spandex
Skirt length: Midi
Reasons To Buy
Best skirt for money
Available in a variety of sizes
Splendid Women's Maxi Dawn Skirt
This is a cool summer skirt which comes in a different colors and styles. It is good for day and night events.
Details
Material: Linen & Cotton
Closure: Drawstring
Reasons To Buy
Flattering summer skirt outfit
Flourishing Moments Red Mini Skirt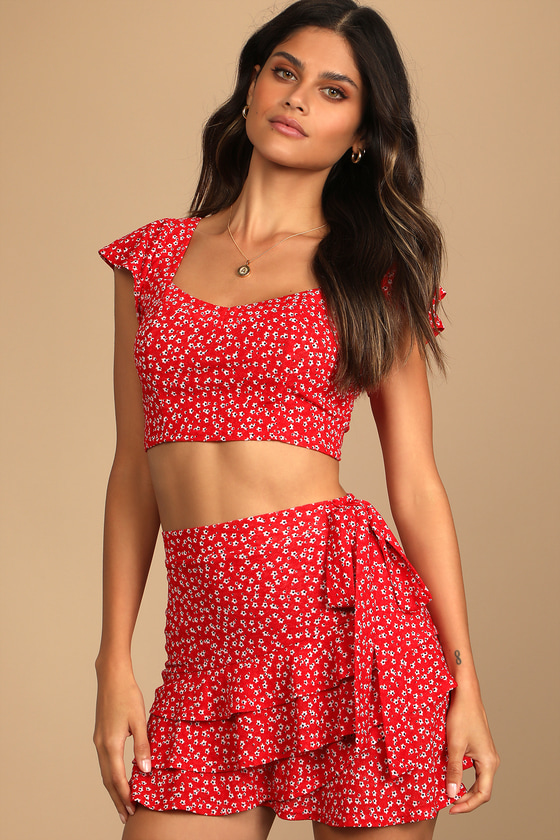 Lulus features the red floral print mini skirt in the woven fabric. It is a great mini skirt for enjoying summer at beaches. The flirty mini hemline increases the beauty of this skirt.
Details
Material: Polyester & Spandex
Reasons To Buy
Cute mini skirt for hot weather
Ambrosio Black High-Low Maxi Skirt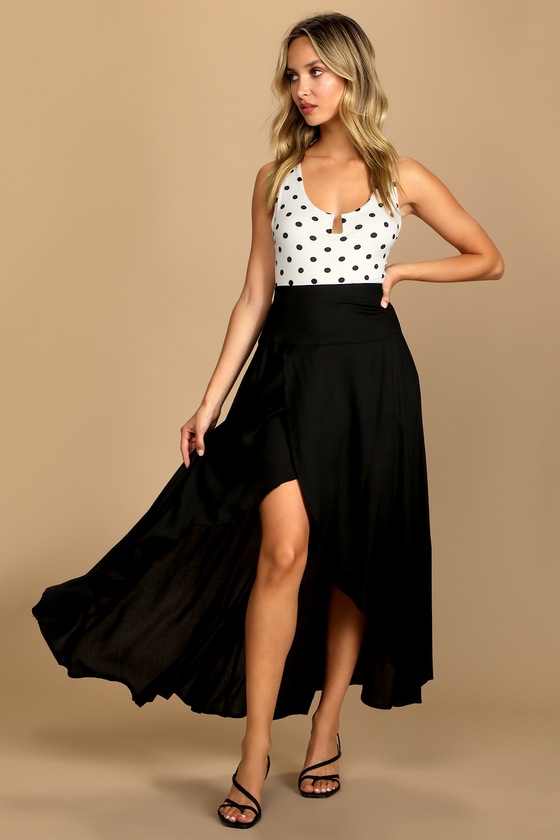 This adorable high-low maxi skirt is obtainable in more than six different colors and it has enough positive reviews and ratings. Many women are interested to buy these types of skirts. So, hurry up!
Details
Material: Viscose
Skirt length: Maxi (Ankle length)
Reasons To Buy
Super stylish
Has a hidden zipper
SALEPlaid Print Lace-up Summer Skirt
Its front lace up design and the hem are liked by many women and most of them mentioned that it was true to size. The Dresslily recommends that chunky boots and slim top would complete your look.
Details
Material: Polyester & Polyurethane
Skirt length: Knee-Length
Reasons To Buy
Unique pattern
Has got the positive reviews
FAQ
Are skirts good for hot weather?
Skirts which made with lightweight and breathable material are good for hot weather, including summer.
What type of skirt is most flattering in Summer?
High Waist Flowy Skirts are more cute & flattering during the summer time. You can also try Boho skirts.