Summer is coming. Beaches look more attractive at this time. It's a great chance to explore beaches during the holidays. Bikinis and swimsuits are best for beaches.
Did you know about beach cover-ups? Beach Cover-Ups help to cover your bikini and swimsuits. You can buy it in different styles, including cover-up dresses and sarongs.
What Are The Best Swimsuit Cover-Ups?
These are our top picks for the best bikini cover-ups for summer.
Pacific Tides White Striped Swim Cover-Up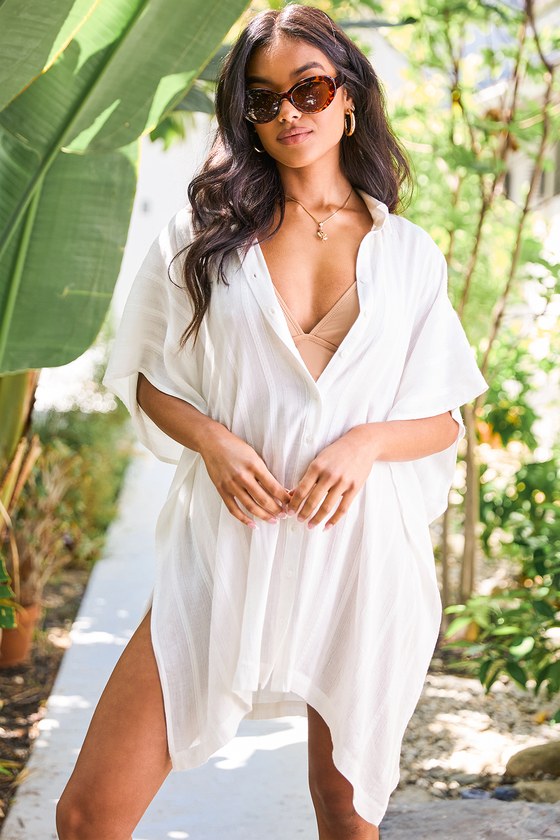 This white swim cover-up is made with soft fabric. Moreover, the white will protect you from direct sunlight. So, there is no doubt it's best for summer.
Tasseled Trim Tie Side Cover Up Sarong
Cover-up sarongs will make you more attractive. It is lightweight, and has a side cutout. You can purchase it in three different colors such as black, light coffee and white. Finally, customers confirmed it's true to size.
Advertisement
Pom-pom Crochet Panel Boho Cover Up
Its Crochet pattern is best for summer. This boho cover up is suitable for bikinis and one piece swimsuits. It looks super cool in the beaches.
Strolls in the Sand Beige Crochet Swim Cover-Up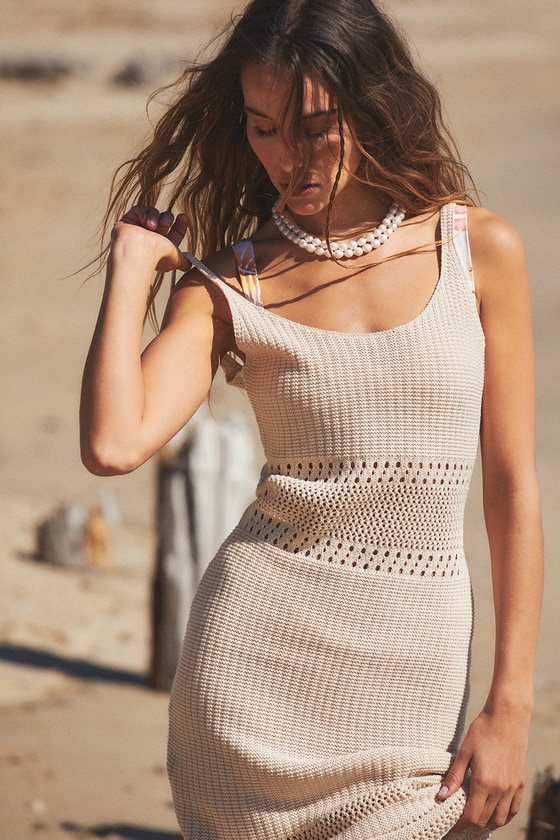 Are looking for the best swim cover up dress for this summer holiday? This cover up will be the best option. It's also suitable for Pool day parties. I really like the scoop neckline. By the way, it has 45% cotton. So, it will be comfortable.
Advertisement
Women Crochet Tassel Pullover Cover Up
Green represents nature. This acrylic swim cover-up is good for vacations. There are multiple colors available for it. Choose your favorite color among them.
Willow Off White Crochet Swim Cover-Up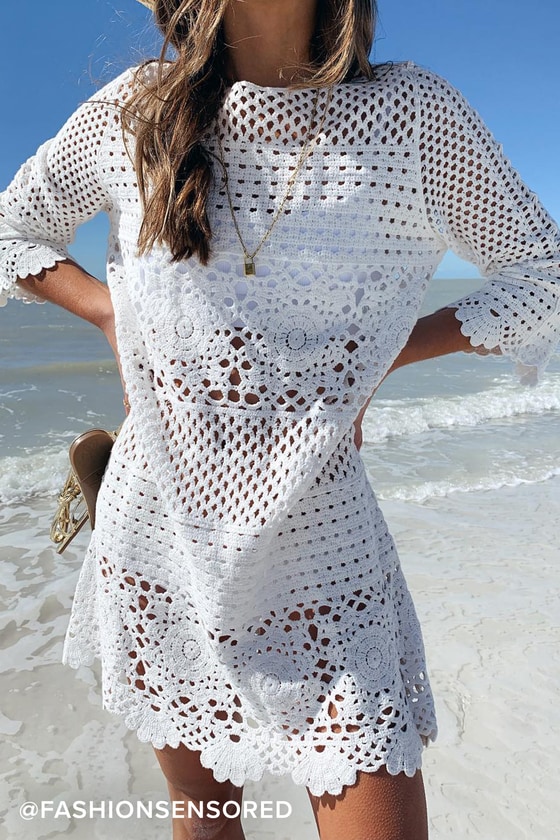 Do you know why I have chosen it? Because it's made with 100% cotton. Wash it by hands with cold water is the best idea. Furthermore, It has over 4.5 rating. You can check them when buying it.
Eomenie Women's Lace Beach Cover Up Dress
Casual Beachwear are usually lightweight and very comfortable. It is not an exception. The upper part of this cover up is made with see-through fabric. Wear it for beaches and swimming pools.
Advertisement
Ginger Ivory Cover-Up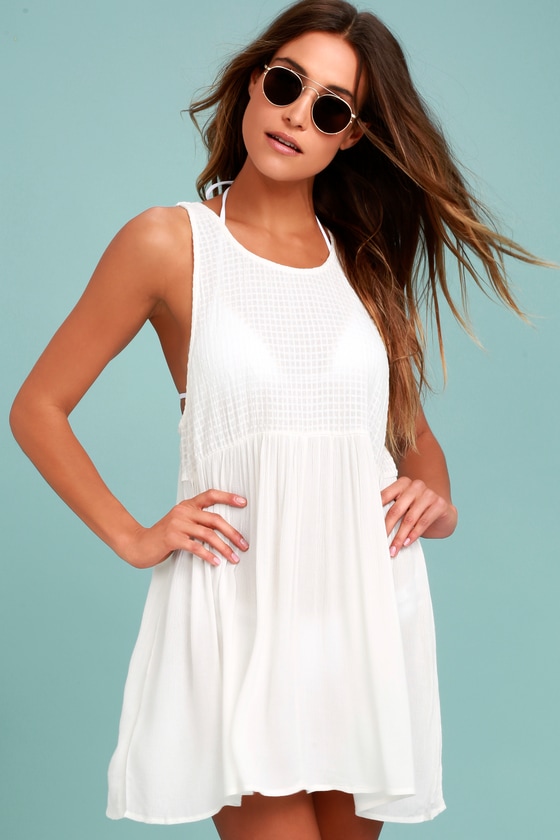 Lulus uses Viscose & Cotton to make this swim cover-up. The scoop neck and sleeveless bodice gives the beautiful look. Try it in Rusty Rose and Ivory.
Thigh Slit Lace Up Crochet Knit Cover Up Skirt
Cover-up skirts are usually made with see-through fabrics. It prevents your skin from direct sunlight. Some customers reviewed it looked expensive and it's true to size.
Summer Seeker White Oversized Swim Cover-Up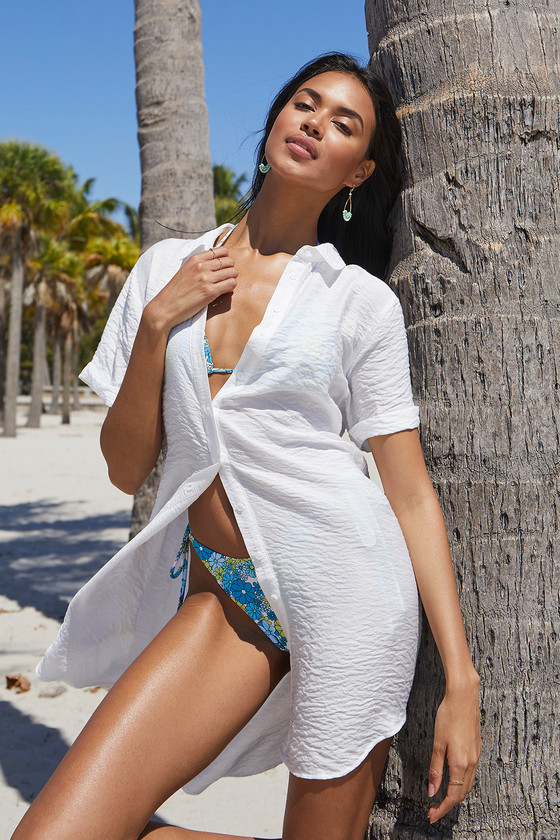 If you like the oversized cover up, you can buy it. It is lightweight, comfortable to wear and has short sleeves.
Advertisement
Hollow Out Sun Protection Cover Up
You can wear a bucket hat with this cover up.
Hamptons Hottie Floral Slip Swim Cover-Up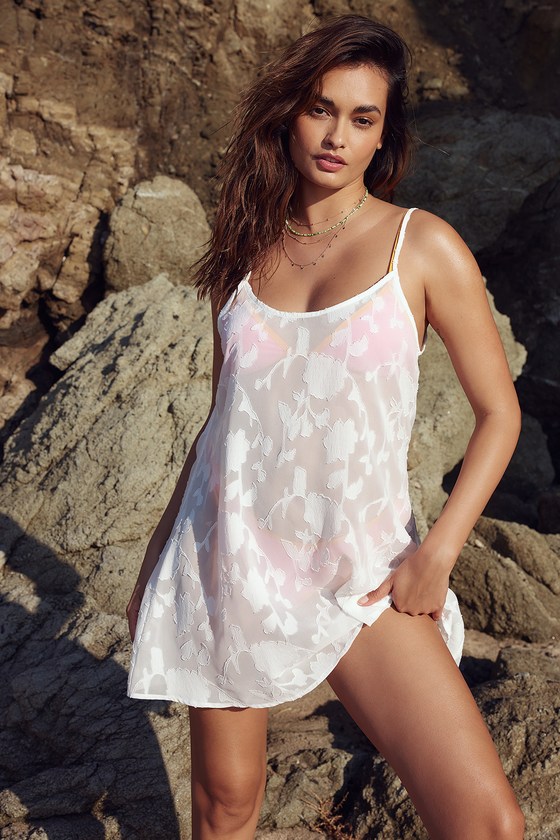 Mini cover ups make a girl more attractive. It helps you to explore summer parties at the beach or swimming pool.
Sheer Lace Tie Front Kimono Cover Up
Everyone wants to be unique in summer days. Zaful sells this unique beach cover up. Apart from the summer, you can also wear it in spring.
Back at the Beach Beige Swim Cover-Up Skirt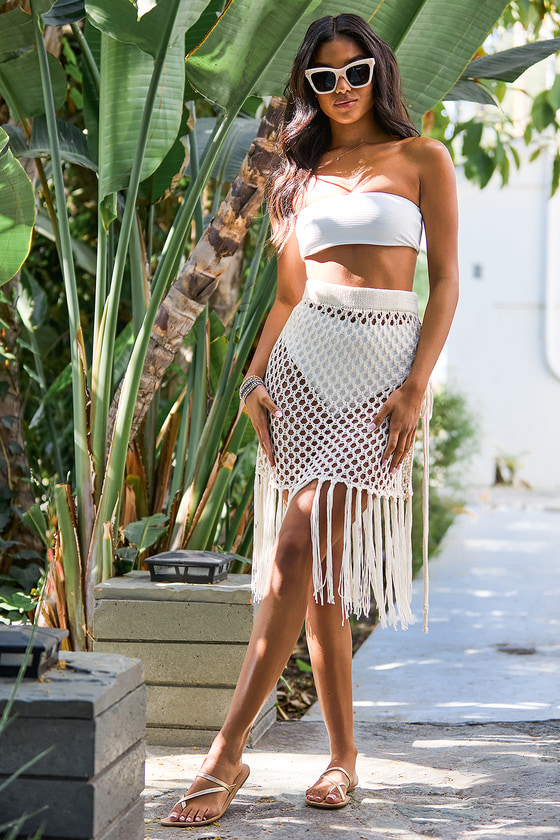 It is available in Beige and Black. So, you can wear it with matching bikinis. Hand-wash is accepted. But, don't bleach it.
Advertisement
Plus Size V-neck Hollow Design Cover-up
Regular cover ups are not suitable for curvy women. However, this mini cover up is perfect for plus-size women.
Santorini Sun Drawstring Swim Cover-Up Dress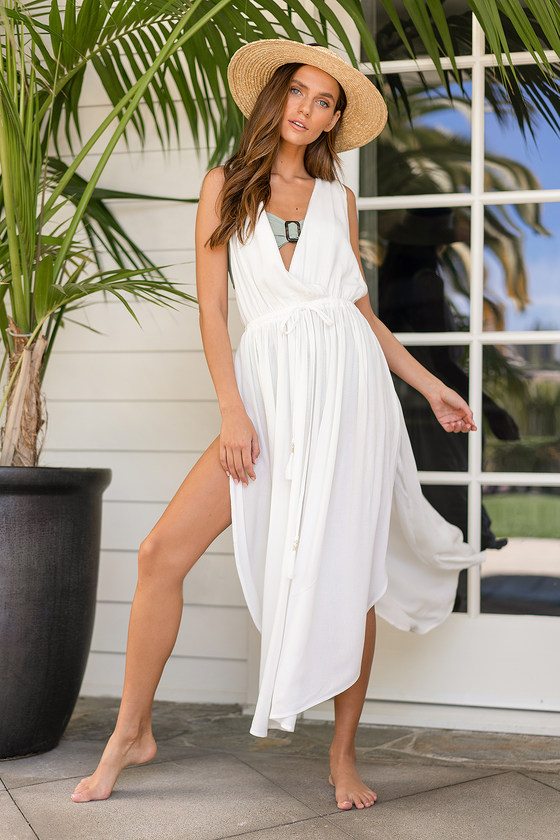 The design is super cool. Lulus has made it with Rayon. It's a little bit baggy. Otherwise, everything is okay.
Crochet Detail Cover-Up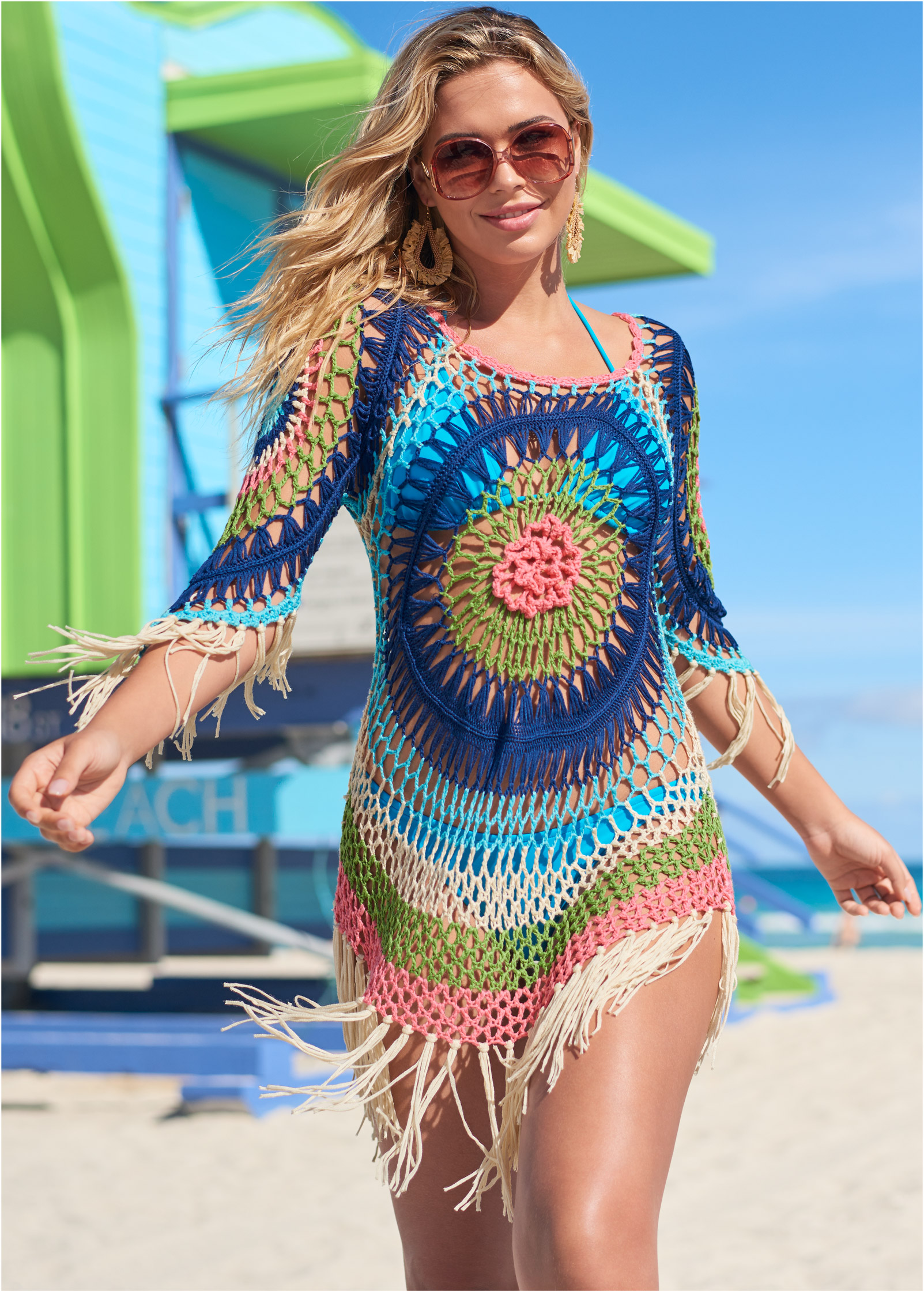 Crochet dresses are best for summer. Don't iron it and don't use the machine wash. You can purchase it via PayPal.
Boardwalk O'Clock Green Leaf Print Swim Cover-Up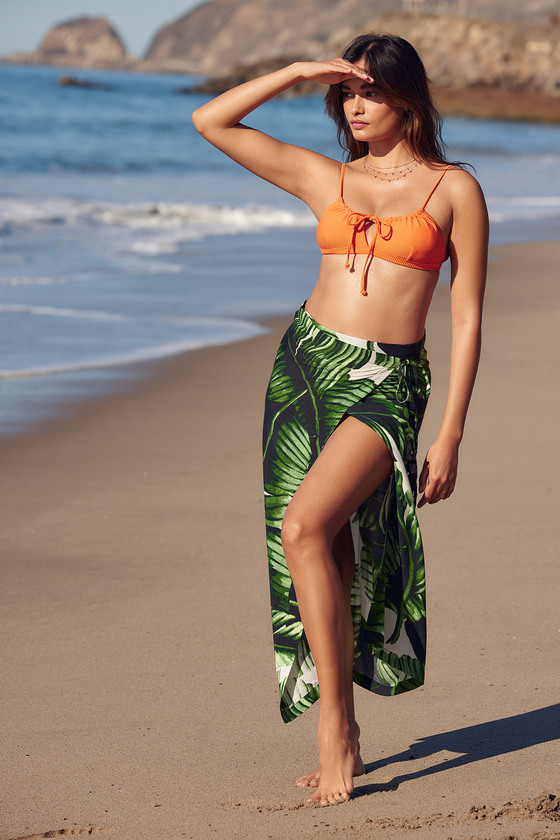 Beach sarongs are also known as the best beach cover-ups. Using dry clean is the best idea to wash it.
Recycled Crochet Tassel Beach Cover Up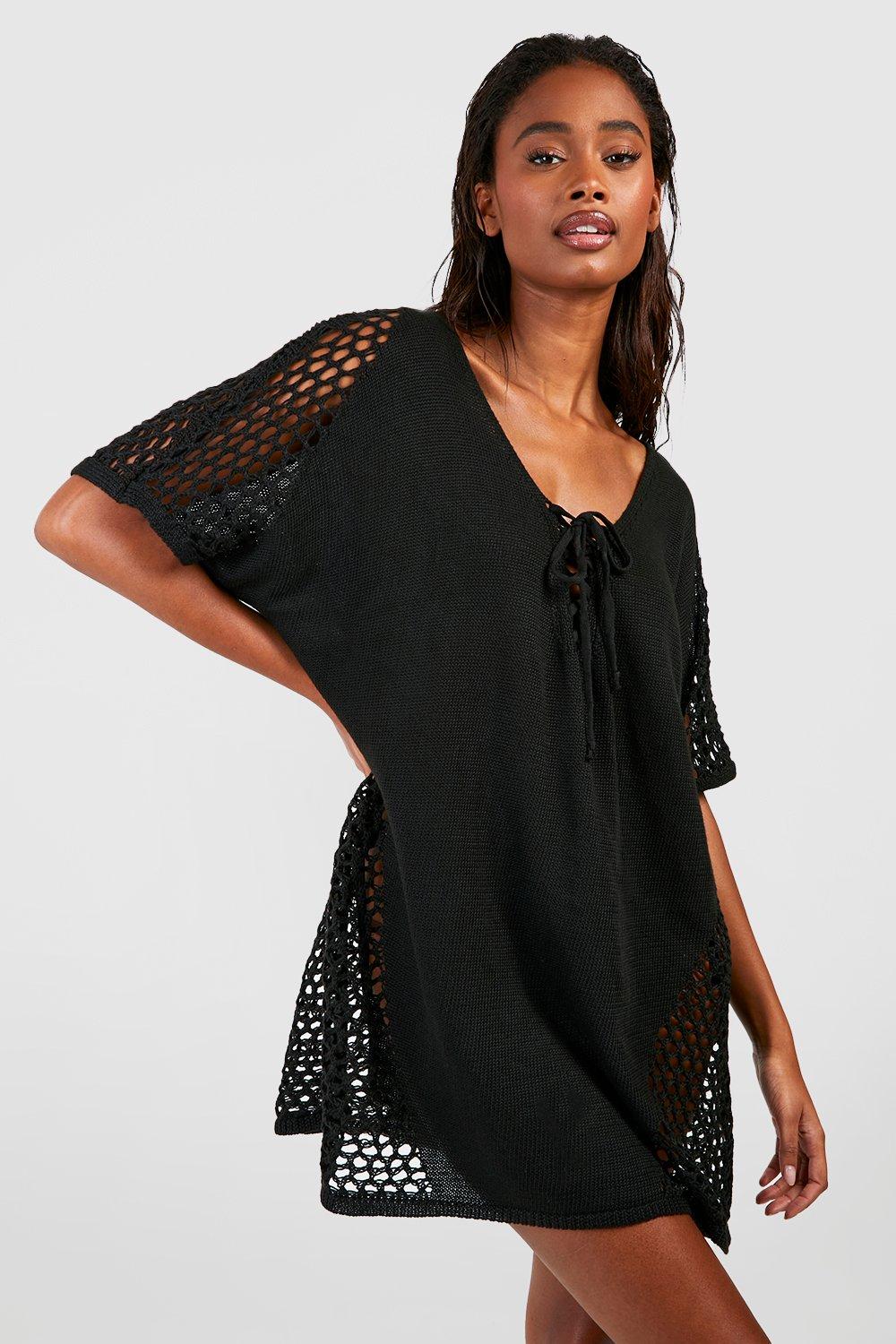 Manufacturers have made this cover up with recycled polyester. So, it is best for our environment. Moreover, this beach cover up helps to protect your modesty.
Sandy Cove Cream Sheer Crochet Swim Cover-Up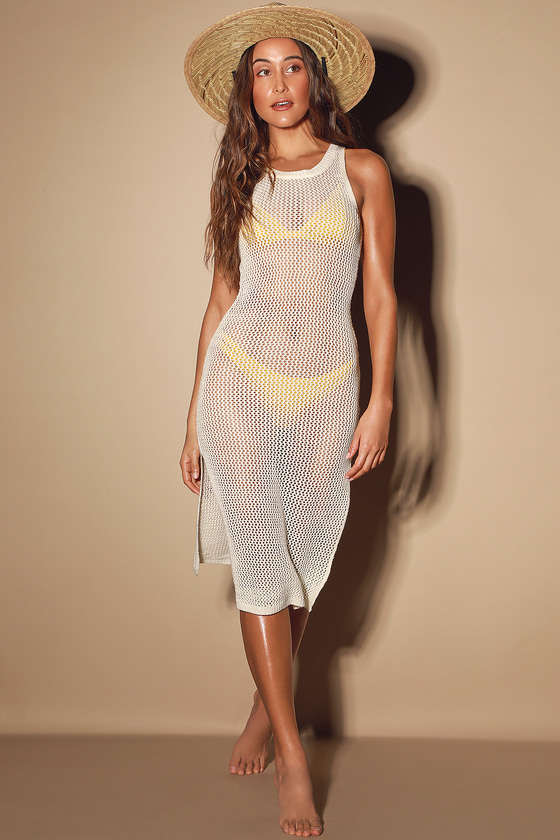 Rounded neckline, sleeveless bodice and the side cut outs make it more attractive. Moreover, the see-through pattern will blow your mind.
Sand and Sun Taupe Swim Cover-Up Scarf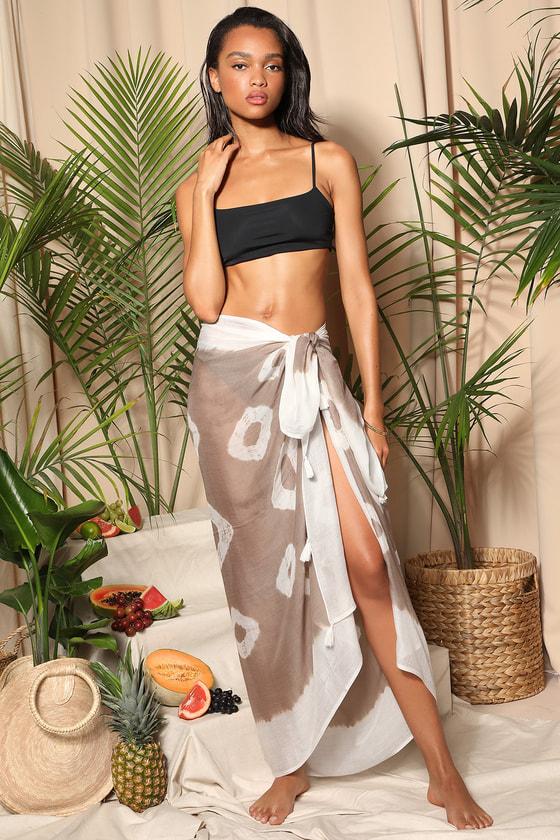 Tie-dye print dresses are one of the best designs for summer. You can wear it as a scarf, sarong and shawl.